The nursery closed on 20 March 2020 in line with national lockdown directives from the government. During this time there was a lot of communication between us all. Children and staff exchanged details and photos of their 'lock down' experiences. Sally, our Chair, provided tomato plants for us to nurture. Most notably we had a project named 'Art Masterpieces' where the children contributed their drawing and paintings (and left them in a box outside the nursery). These masterpieces are currently on display at Kensal Rise Library and have contributed to connections within our community when we have been apart due to Covid19 restrictions. Pam, in pic, a former parent, admiring the children's art work at the library).  Our friend Doris, who is a constant visitor to the nursery, shared her activities with us (Zoom Zumba and drawing) and contributed to our 'Art Masterpieces'. Some of our staff and parents also made valuable contributions to the London Borough of Brent 2020 Year of Culture and were interviewed for Kensal Rise Library's project with Psych geographer, John Rogers
http://thelostbyway.com/the-museum-of-all-brent-life-kensal-rise-library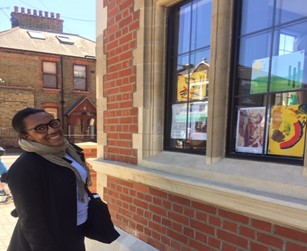 We had a phased reopening on June 29 for vulnerable children and children of essential workers.Some of our staff were shielding or had health and/or medical conditions which prevented their return to work so we were only able to provide care for a limited number of children.
From September we have opened with a full complement of staff and children.Lockdown closure has had a severe impact on the finances of the nursery as we have lost 65% of our income during this time. We have had some success with applying for grant funding and are in the process of applying for other grant help but it remains a challenging time for the nursery.
We have put in place a range of measure to ensure that our nursery environment is as safe as possible for both staff and children.We have produced a Risk Assessment, which is reviewed weekly, an Enhanced Covid19 Cleaning of the Environment and Resources and put in place a Reopening Checklist.The staff have received training on cross infection provided by the London Borough of Brent's Early Years Team and Public Health England.
We are restricting entry into the nursery which includes parents and other visitors. Parents can communicate with the nursery by telephone and email and where needed an arrangement for a meeting is made out of nursery opening times. Staff and parents will continue to use our online assessment EY Log to communicate about the children.
We have had to make other decisions to ensure the safety of the nursery:
Children now bring a packed lunch.
Our opening hours (temporarily) have altered to 8-5pm so that we can make changes to our shifts. This enables us to minimise mixing of our two groups of children and enables the same group of staff to be available to work in separate rooms, lunch times and when we use of the garden.
It also means that the staff who use public transport can travel outside peak hours as much as possible.
All of our changes will be reviewed at the end of the autumn term.
These are strange times for all of us but we have retained our strong sense of community, helping each other when we can and keeping in touch.
Brent Council information on both symptomatic and asymptomatic testing:
https://www.brent.gov.uk/your-community/coronavirus/test-and-trace/
NHS information on Covid19:
https://www.nhs.uk/conditions/coronavirus-covid-19/